Upstart (UPST) ended 2021 strong and announced something surprising for high-growth companies: a stock buyback program. Growth investors often disdain stock buybacks, but I explain why those sentiments are misplaced. I also explain why UPST is buying back shares and what that means for investors. UPST is expected to continue its rapid growth rates through 2022 and beyond and is already quite profitable. I consider stocks a solid buy as it is one of my most confident positions following the tech crash.
UPST stock price
UPST went public in December 2020 during a price of $20 per share. Since then, the stock has been on a rollercoaster ride, trading as high as $401 and suffering numerous 50% declines in just a few years: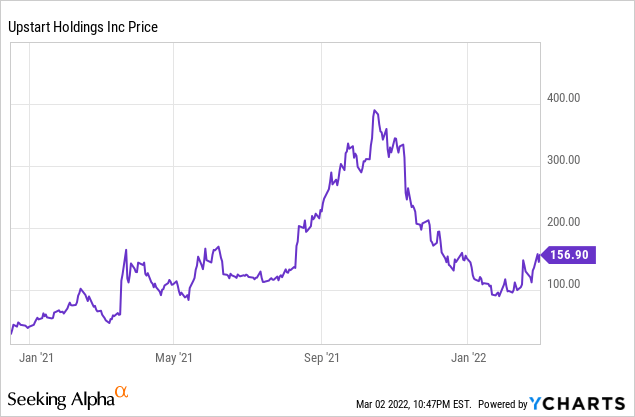 Now trading around $150 per share, the stock is one of my strongest ideas amid the tech stock crash.
UPST Stock Key Metrics
The last quarter showed more of the solid strength that UPST shareholders have grown accustomed to. UPST brought in $305 million in revenue, far exceeding its forecast of $265 million. Net income was also strong with a net margin of 19%: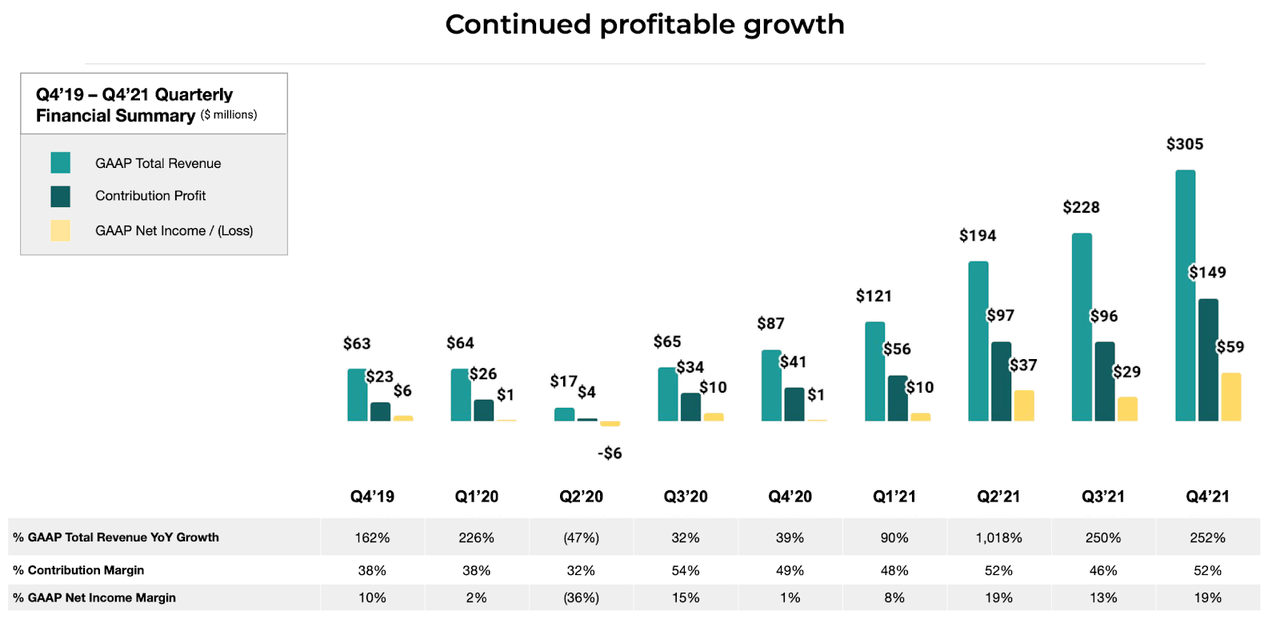 That brings its 2021 revenue to $849 million. The company had guided for 500 million dollars before starting the year!
UPST has seen automated lending return to the 70% level – this metric should continue to improve as the company refines its algorithms.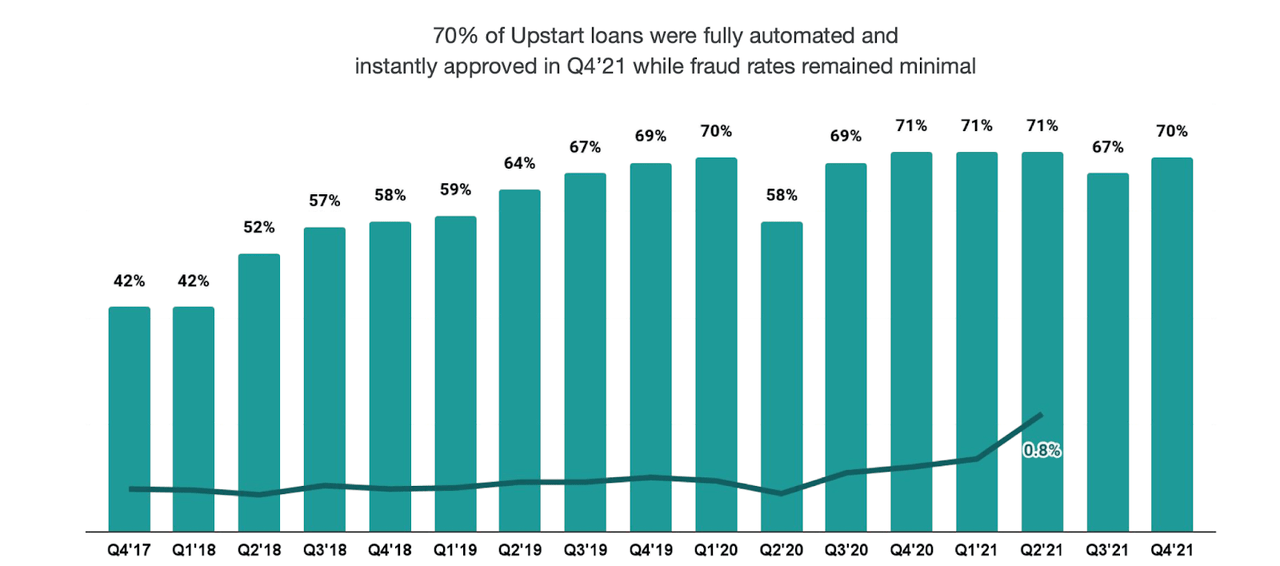 UPST has guided next year revenue of approximately $1.4 billion, representing 65% year-over-year growth.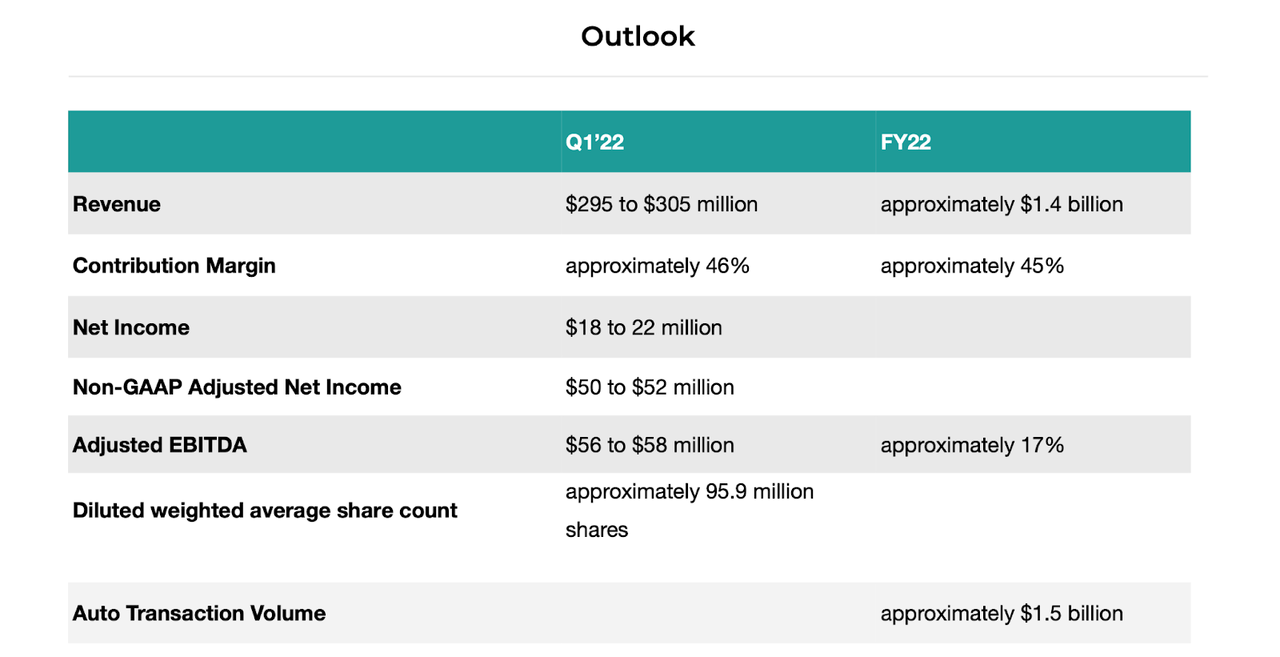 It should be noted that auto transaction volume is expected to be $1.5 billion – UPST generated $11.8 billion in transaction volume in its personal lending business in 2021. Auto lending is a larger market than personal loans, suggesting continued growth beyond 2022.
Why is Upstart buying back shares?
In addition to strong results and guidance, UPST launched a $400 million stock buyback program. Why is UPST buying back shares?
From their earnings call, UPST said the following:
I want to point out as a final note that we recently announced our board's authorization to repurchase up to $400 million of Upstart stock. With the volatility in our stock trading, we have seen what we believe to be attractive buying conditions at various times over the past year, and our profitability puts us in a position to be able to initiate this program and take advantage of these situations on behalf of our shareholders.

Yeah, I would say, most importantly, we had plenty to do throughout. As you know, we are growing rapidly and hiring a lot. It is therefore not a capital structuring decision, it is economic opportunism. And it's really a function of two things that are somewhat unique to our stadium. First of all, well, one of them is the volatility of our stocks is well known. You've seen it over the past year. And look, there is – we believe there have been many instances over the past year, we know what we know about our business and our opportunity. We believe it was undervalued.

And then the second element is that we're actually profitable, so because of that very unique characteristic, we have the real ability to leverage that belief on behalf of our shareholders. So it's opportunistic, and I think the volatility in our stock continues, we'll watch it, and we'll be able to take advantage of it. But it's not really a belief around returning capital to shareholders as much as it takes advantage of the equity volatility and profitability that we already have as a business model.
In summary, UPST buys stocks to take advantage of opportunistic volatility. Management believes the stock is undervalued due to the high growth rate and profitability.
Is stock buyback good for investors?
The stock buyback is the icing on the cake of a very good quarter, but we have to discuss if stock buybacks are good and if they are good for UPST investors.
Let's start with stock buybacks in general. I saw that it was written that share buybacks hinder growth prospects and therefore growth stocks should not buy back shares. This notion is unfortunately popular and not true.
Share buybacks are generally funded by free cash flow or net income. This is very important to note. The most important way for companies to fund growth is to increase operating expenses – for technology companies like UPST, this will primarily mean increased research and development (R&D) spending. In the case of UPST, "engineering and product development" expenses increased by 244% in 2021. Net income and free cash flow are what the company earns after all operating expenses. , including investments in growth. Therefore, using net income to buy back shares will not inherently impede growth. This is an important accounting distinction, and one worth re-reading if it doesn't yet make sense.
Another less important way to fund growth is through acquisitions or capital expenditures. In this case, cash will come from net income or free cash flow. If the company uses all the free cash flow to buy back stock, then it will have less capital available for acquisitions and capital expenditures. In this case, there is some truth to the idea that share buybacks can conflict with growth. However, most technology companies do not have significant capital expenditure opportunities (cloud computing companies are a notable exception) and the risk of executing acquisitions is high. Whether a company should use free cash flow to repurchase shares or acquire outside depends on the projected return of either method. Share buybacks offer a more certain return on investment than external acquisitions, which arguably makes them preferable most of the time. In this case, the main reason to avoid share buybacks and prefer external acquisitions would be if the stock in question was significantly overvalued relative to investable alternatives. In the case of UPST, I consider the stock to be significantly undervalued on its own, which makes stock buybacks seem entirely justified.
What about the UPST, should it buy back shares? Maybe, and maybe not. The main argument against buying back shares would be if the company wants to maintain a higher cash balance to help roll out its new lending platforms, from auto lending this year to mortgage lending whose management projects begin next year. UPST aims to be a lending technology company, which means it aims to offload loans issued to institutional buyers. However, there won't be many institutional buyers until he proves his lending algorithms work well. UPST has already proven its platform for personal loans, but has not yet done so for auto or mortgage loans or any other areas it will enter in the future. The company must hold originated loans on its balance sheet before obtaining institutional cooperation, and this is a valid argument against share buybacks. Instead of stock buybacks, it may make sense for UPST to build up a cash balance to shore up its balance sheet. Perhaps the company could strike a balance between the two or even use leverage to fund the loans taken out. What I mean is that there is no clear argument for or against share buybacks at these levels.
What is the UPST Stock forecast?
Wall Street consensus estimates call for revenue of $1.42 billion in 2022, only slightly higher than management's outlook of $1.4 billion.

These consensus estimates seem too low. Consider that the UPST initially guided 2021 to see revenue of $500 million, but revenue ended up reaching $849 million.
Is the UPST stock a buy, sell or hold?
Still, while we don't assume the hardware beats the forecast, UPST stock looks too cheap. I'm assuming 30% long-term net margins, which is reasonable given that the company already generates 12.4% net margins (I applied a corporate tax rate of 21%). Applying a price to earnings growth ratio of 1.5x ("PEG ratio") brings us to 16x sales, representing a stock price of $260 and suggesting a 74% upside over the next 12 months. UPST is just beginning its story as an AI-powered lender and is expected to experience steady growth as it enters auto loans, mortgages and beyond. If this company can sustain 30% growth for a decade, then this may be the type of stock that offers 10x returns in 10 years. The main risk here is if the AI ​​software turns out not to work well. If the economy goes into recession and UPST loans perform worse than man-made loans, the company may lose business and face an existential crisis. Another key risk is customer concentration. As noted in the annual report, only two partner banks accounted for 83% of revenue in 2021. UPST needs to increase the participation of its other banking partners to move forward.
I view the stocks as a solid buy, as the company has a long and clear path of growth ahead of it while trading at more than reasonable valuations. UPST is one of my most compelling ideas amid the tech crash.