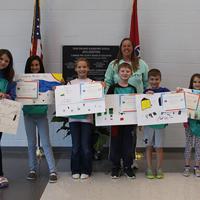 Local students create posters for America Recycles Day | School news
Cumberland County students helped celebrate American Recycling Day, celebrated on November 15, with a poster contest sponsored by the Cumberland County Solid Waste Department.
This annual celebration encourages Americans to recycle and purchase products made from recycled materials. Contest winners received a T-shirt, mask, reusable grocery bag, and McDonald's ice cream coupons.
Recycling benefits the environment by reducing the waste that ends up in landfill, conserving raw materials, reducing energy use and reducing county disposal costs. Landfills in Tennessee are filling up fast, and waste management will become increasingly expensive for communities.
Learning why, how and what to recycle can help you make sense of recycling and reduce your waste.
Recycling is a habit that households can easily develop. Take the time to make sure the materials are recycled instead of having to be thrown out due to contamination from food waste, grease and other materials.
You can recycle paper, cardboard, metal and plastic using the single-stream recycling bins at convenience stores in Cumberland County. Glass can also be recycled by placing glass items in the appropriate bin.
Materials must be clean and dry. Food waste cannot be accepted.
Plastic is the most confusing item to recycle. The numbers at the bottom of the container are sometimes difficult to read. Some counties are unable to recycle plastics. Others can only recycle # 1 and # 2 plastics. Plastic # 1 consists mostly of beverage bottles. Plastic # 2 is bottles such as shampoo or detergent.
While the plastic bags are labeled # 2, the county is unable to recycle them. These should be taken to area grocery stores, such as Walmart and Kroger.
If you're not sure if something can be recycled, throw it in the trash instead.
Other materials that can be recycled include used oil, antifreeze, cooking oil, fluorescent light bulbs, batteries, and electronics. Check with the outreach center staff to find out where to place these items.
Recycle clothing and furniture at local thrift stores.
The energy saved through recycling adds up. The America Recycles Day website states that recycling a tin can can power a TV for three hours. The energy saved by recycling a glass bottle can power a computer for 25 minutes. The energy saved by recycling a plastic bottle can power a 60-watt light bulb for three hours.
National Geographic reports that every person in the United States throws 64 tonnes of garbage in the landfill in their lifetime. Recycling can cut that in half.
Recycling makes sense. Email [email protected] for more information.